2019 Conference Keynote Speaker
Keynote Speaker: Durell M. Callier, Ph.D.
Durell M. Callier, Ph.D., is an assistant professor in the Department of Educational Leadersh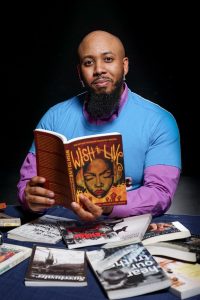 ip at Miami University. Situated at the intersection of queer, cultural, and educational studies, his current research analyzes how Black expressive culture created by Black, queer youth, girls, and women through informal educational institutions and practices are used toward Black survival and knowledge creation.  His research and teaching focuses on the ways Black and queer performances of culture and memory through literary texts, embodied performances and visual art act as educative sites for staging critical resistance, practicing and actualizing freedom.  An artist-scholar, Callier is the co-visionary of an arts-based collective, Hill L. Waters (www.hilllwaters.com), which enacts Black, queer world-making as an embodied pedagogy, research site, and publicly engaged practice. In his research and creative projects, he employs feminist and queer methodologies to explore issues of race, gender, sexuality, love, violence, and belonging. Callier has also written, performed, and produced plays (Tell It!: A Contemporary Chorale for Black Youth Voices), performance texts (Bodies on Display; Love, Funk, and Other Thangs; Connected, OUT) and created a mixed media art installation (disclosure, Staging Blackqueer Possibilities).
Dr. Callier is a part of the TRIO family, first a participant in the Maryland Educational Opportunity Centers, then a staff member with the UMBC Classic Upward Bound Program and finally an alumnus of the UMBC McNair Scholar's Program.