2020 Hill-Robinson McNair Lecture
Note: If you are registered for the 28th Annual UMBC McNair Research Conference, please ALSO register for this pre-conference event IF you will be attending!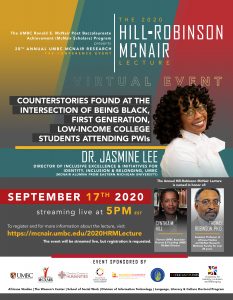 The UMBC McNair Scholars Program will present the 2nd Annual Hill-Robinson McNair Lecture, named in honor of Cynthia M. Hill, Former UMBC Associate Provost & Founding UMBC McNair Director, and Thomas Robinson, PhD., Assistant Professor of Africana Studies and McNair Research Methods Faculty for over 28 years. Here is the link to the flier for the event. All are welcome and encouraged to attend!
Annually, we will highlight a lecturer who is an accomplished UMBC McNair alum or UMBC faculty/staff member who is an alum of a McNair program from another university. This year's lecturer will be Dr. Jasmine Lee, Director of Inclusive Excellence & Initiatives for Identity, Inclusion & Belonging in the Division of Student Affairs at the University of Maryland, Baltimore County (UMBC). Dr. Lee is an alumna of Eastern Michigan University where she was a proud McNair Scholar. Click here to read her full biography.
Title of Lecture: Counterstories found at the intersection of being Black, first generation, low-income college students attending PWIs
Abstract: Universities and post-secondary institutions were created with certain "ideal students" in mind: rich, white, and male, are just some of the characteristics. Being Black, from a low-income household or community, and being first generation, were not common identities you would find across the higher education landscape. In 2020, university student populations continue to become more and more diverse and there is so much still to learn about student experiences and what contributes to their success. Using Critical Race Theory (CRT) as the macro theoretical lens and methodology, I will share results from a study that illuminated academic resilience in the face of daily and historical challenges. The themes include (a) "Do whatever needs to be done to get the goal accomplished. That's really all it is." — Intrinsic motivation, grit, and academic resilience; (b) "It kinda just puts you in a situation where you just feel like failure's not an option; even after you fail, you gotta get back up." — Academic resilience and the sense of obligation to family and the broader Black community; and (c) "They raised a doctor" — The village model and academic resilience. The themes represent students' lived experiences of remaining academically resilient while navigating an institution and society rife with classed and raced oppression. We have much to learn from the lives and stories of our students. As such, student experiences were taken into consideration to develop recommendations and conclusions for theory, research, and, most importantly, future practice within and across the academy.
The 2020 Hill-Robinson McNair Lecture is co-sponsored by: The UMBC McNair Scholars Program, Initiatives for Identity, Inclusion and Belonging, Center for Social Science Scholarship, Dresher Center for the Humanities Inclusion Imperative Program, Dresher Center for the Humanities, Language, Literacy & Culture Doctoral Program, UMBC Social Work Program, The Women's Center,  Gender, Women's, + Sexuality Studies, American Studies, Africana Studies Department, and Division of Information Technology.
For more information, please contact Michael A. Hunt, Program Director, UMBC McNair Scholars Program, huntmi1@umbc.edu.