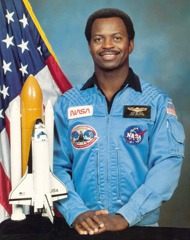 Dr. Ronald E. McNair
Who is Dr. Ronald E. McNair?
Ronald Erwin McNair was born October 21, 1950, in Lake City, South Carolina to Carl and Pearl McNair. In 1971, he received a B.S. in physics and graduated magna cum laude, from North Carolina A&T State University. In 1976, McNair earned a Ph.D. in physics from the Massachusetts Institute of Technology.
He became a recognized expert in laser physics while a staff physicist at the Hughes Research Laboratory. Dr. McNair joined the space shuttle program in 1978, and NASA assigned him as a mission specialist aboard the 1984 flight of the shuttle Challenger.
For his academic achievements, McNair received three honorary doctorate degrees and numerous fellowships and commendations. Dr. McNair also held a fifth degree black belt in karate and was an accomplished jazz saxophonist. He was married and had a son and a daughter.
After his death in the Challenger space shuttle accident in January 1986, members of Congress provided funding for the Ronald E. McNair Post- Baccalaureate Achievement Program to encourage minority and low-income, first- generation college students to enroll in graduate studies. This program is dedicated to the high standard of achievement Ronald E. McNair's life represented.