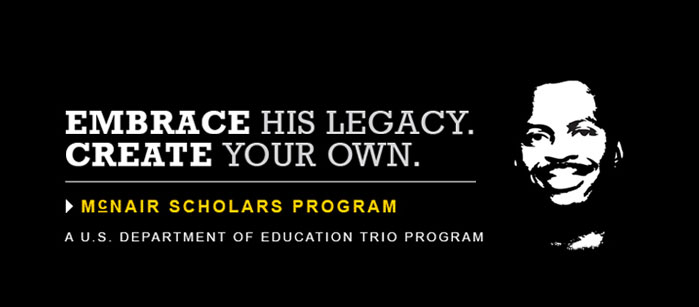 "Before you can make a dream come true, you must first have one."
-Dr. Ronald E. McNair
About Us
Funded by the U.S. Department of Education, the Ronald E.McNair Post Baccalaureate Achievement (McNair Scholars) Program provides experiences that prepare students for graduate education in all disciplines. The program involves students in research, mentoring, and other scholarly activities. McNair participants are from diverse backgrounds and have demonstrated strong academic potential. The goal of the program is to increase the attainment of research-based doctoral degrees by students from underrepresented segments of society.
Annually, McNair Scholars are selected from among eligible UMBC students to participate in a variety of activities designed to prepare them to progress to earn doctoral degrees. Eligible participants are low-income, first-generation college students, or are members of groups underrepresented in graduate education.
The McNair Scholars Program at UMBC is one of many federally funded programs across the United States and Puerto Rico.
Our Values
Scholarship
McNair Scholars participate in a variety of scholarly activities designed to prepare McNair Scholars for graduate study. These activities serve as practice for the kinds of research activities they will engage in as graduate students. These activities also contribute to creating a competitive graduate school application for Scholars.
Community
Established in 1992, the McNair Scholars Program at UMBC is one of the longest-running McNair programs in the country. Many McNair alumni give back to the program by providing talks, workshops, and seminars for undergraduate Scholars on their academic, personal, and professional experiences. We consider McNair a family of scholars, alumni, and staff who support each other academically and professionally.
Empowerment
The McNair Scholars Program is about encouraging others to develop their human potential to achieve the best they can, make reasonable choices, and to transform those choices into desired actions. Mentorship is a key component of the program, and mentors serve as ambassadors to the culture of their discipline and provide a network for the scholars.
Legacy
The McNair legacy is grounded in being genuine about making a vital, meaningful, and lasting contribution to humanity while still accomplishing individual goals. Scholars are connected to a network of peers, alumni, faculty, and staff, who help them on the path to the PhD.. The legacy of Dr. McNair reminds scholars of the importance of reaching back to those who will come after them, while looking forward to move research into new areas, and change the face of academic teaching and research by contributing new insights to their fields.
Vision 
McNair Scholars have spent hours in libraries, labs, collected countless specimens, gone out into the filed to collect data or interview subjects, and visited other cultures to conduct their research. These scholars have seen their work as a part of a larger whole, asked difficult questions, and have chosen their topics with a sense of meaning and purpose. Offering diverse solutions to global problems connects us and reminds us that we are all, citizens of humanity.
Excellence
Excellence is derived from practice and persistence. McNair excellence means understanding what is required in scholarship and living up to it for the betterment of all. Being a McNair Scholar means understanding what is required to achieve academic excellence and reach personal goals.