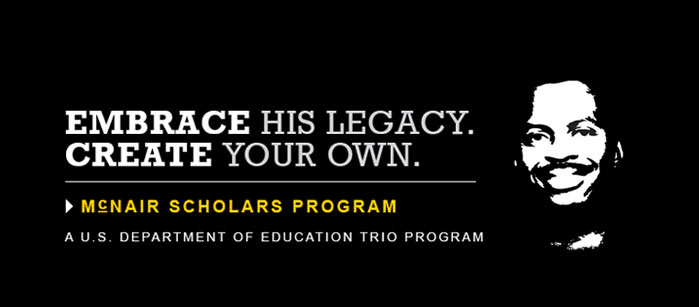 "Before you can make a dream come true, you must first have one."
-Dr. Ronald E. McNair
About Us
Funded by the U.S. Department of Education, the Ronald E.McNair Post Baccalaureate Achievement (McNair Scholars) Program provides experiences that prepare students for graduate education in all disciplines. The program involves students in research, mentoring, and other scholarly activities. McNair participants are from diverse backgrounds and have demonstrated strong academic potential. The goal of the program is to increase the attainment of research-based doctoral degrees by students from underrepresented segments of society.
Annually, McNair Scholars are selected from among eligible UMBC students to participate in a variety of activities designed to prepare them to progress to earn doctoral degrees. Eligible participants are low-income, first-generation college students, or are members of groups underrepresented in graduate education.
The McNair Scholars Program at UMBC is one of many federally funded programs across the United States and Puerto Rico.