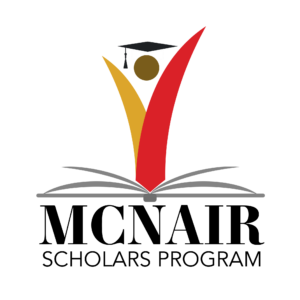 Mission  
The UMBC McNair Scholars Program's mission is to prepare students who are first-generation, income-eligible and/or historically underrepresented in graduate education for research-based doctoral studies through involvement in research and other scholarly activities. 
Vision Statement 
The UMBC McNair Scholars Program seeks to enhance the knowledge, skills, and awareness of critical scholars as they navigate current structures while challenging oppressive systems within the academy.   
Goals  
Promote the Attainment of Research-based Doctoral Degrees  
Cultivate an Inclusive Scholarly Community 
Inspire Inquisitive Minds to Change the World
Federal Mandate/Objectives
The federal mandates as identified in our grant are the following:  
 Research or Scholarly Activities: 80% of UMBC McNair Program participants served during the project year will have completed appropriate research or scholarly activities during the McNair program academic year.
Graduate School Enrollment: 70% of UMBC McNair program bachelor's degree recipients will be accepted and enrolled in a post-baccalaureate program of study by the fall term of the academic year immediately following the completion of the bachelor's degree
Continued Enrollment in Graduate Study: 90% of first year UMBC McNair Alum graduate students will continue to be enrolled in graduate school at the beginning of the fall term of the next academic year
Doctoral Degree Attainment: 10% of UMBC McNair alums will receive their research-based doctoral degree within ten years of graduating from UMBC.
 
The UMBC McNair Community Core Values serve as a guide and form of commitment for all those involved with the UMBC McNair Scholars Program. These values are a reflection of the responsibility, investment, and energy of McNair Community Members. McNair Community Members include Scholars, Pre-McNair Students, Student Staff, Professional Staff, Faculty Research Mentors, McNair Mentors, Advisory Council, and Community Volunteer Supporters. The listing and descriptions of the Community Core Values were created and fine-tuned as a labor of love and collaboration between McNair community members during the 2019-2021 academic years.
Adaptability, Coachability, Community, Discipline, Engagement, Family, Humility, Investment, Perseverance, Professionalism, Reciprocity, Respect, Scholarship, Vision, Vulnerability