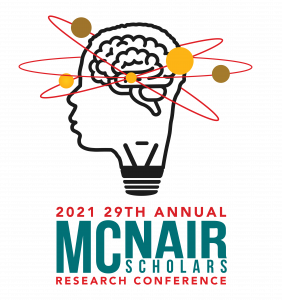 We are excited to invite you to be a part of our 29th Annual UMBC McNair Scholars Conference. This year, the conference will be held virtually, with the Graduate School Fair kicking off the actual conference on Friday, September 17th, 11:00 am – 4:00 pm.  We're doing a few things a little differently this year, but we hope to provide you with the same extraordinary experience. We are offering several additional perks as part of your registration that we hope will be of great benefit.
Registration via Eventbrite – Here's the link to register. We will send you a second link to gather more information once you have registered. You will have multiple ways to pay, including via invoice. Due to fast-approaching deadlines, registration is final once you submit it via Eventbrite.  Grad Reps only need to complete one registration per program being represented. We will then send you info to add another registrant (for free) if you desire.

If you decide to have more than two individuals representing your program, we do require each to register at the reduced grad rep rate

. 
Individual Room for Program – Each registered program will have its own room (via OpenWater – click here for more information). You will be able to design your own schedule of how you will operate your room (see sample below).
Conference Attendees List – At least two weeks prior to the conference, you will be provided a list of registrants with relevant information about them including their degree programs of interest.
Registration for the entire conference – although the grad school fair will be held on Friday morning/afternoon, we are hoping that you will still participate in the full conference. You will be able to attend the keynote and participate in the scholar presentations that you may find intriguing in order to make further connections with the scholars. (Note: for now, we are keeping the Friday networking for the scholars only)
Graduate Fair Booklet – As a bonus, we will be creating a graduate school fair booklet that will be disseminated not only to the attendees, but will be forwarded to the entire national McNair community. As part of the booklet, you will be able to submit a full-page color advertisement for your program, and there will be a profile sheet for each institution highlighting key aspects that are important to our McNair family.
Next Steps After Registration
Once you register , we will send you this link to a separate Grad Rep Profile form that will gather all the information necessary for the Grad Fair Booklet that the attendees will receive.  You will also need to complete the Grad Fair Page form to have your webpage built within Open Water site. We highly suggest you set up your profile on the site at this point so you can make edits as necessary.
The deadline to register and have all forms submitted will be August 9th, 2021, at 5 pm EST. The deadline to register additional guests will be September 1, 2021.
Sample Room Schedule (Note: You will need to provide us with the details once you complete the form sent after you register via Eventbrite). Remember, all guests must be registered.
11:00 am – 11:30 am – Informational
11:30 am – 12:00 pm – Open Questions
12:00 pm – 01:00 pm – Meet the Dean (Special Guest)
01:30 pm – 02:00 pm – Break
02:00 pm – 02:30 pm – Informational
02:30 pm – 03:00 pm – Open Questions
03:00 pm – 04:00 pm – Panel with Current Ph.D. Students
These are sample questions that are asked on The UMBC McNair Conference Grad Representative Prep FORM. We will compile your responses and use them within the Graduate Fair booklet. (Deadline is August 9th, 5pm EST, to be included in the booklet) 
Does your institution have a McNair Scholars Program? (Yes or No)
Number of McNair Scholars enrolled at your institution (undergraduate and graduate)
Does your institution honor the national McNair application fee waiver?
If no, are other application fee waivers available?
Is there a special process for obtaining any fee waivers, including McNair?
Please list visitation possibilities that cater to diversity (include websites):
Please discuss graduate school funding for diverse applicants:
Please describe the support systems within graduate school to support diverse applicants once enrolled:
What professional development opportunities exist for diverse graduate students within your program/ institution.
Attachments: Full Page 8.5 by 11 color advertisement, and Institution's Logo
Please note that in the booklet it will state that the information was provided directly from the institutional representative listed. Therefore, we urge you to make sure that the information is accurate.