Note: If you are registered for the 31st Annual UMBC McNair Research Conference,
please ALSO register for this pre-conference event IF you will be attending!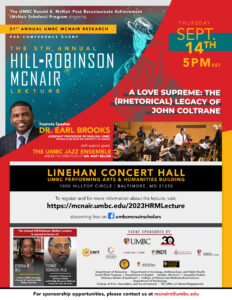 The UMBC McNair Scholars Program will present the 5th Annual Hill-Robinson McNair Lecture, named in honor of Cynthia M. Hill, Former UMBC Associate Provost & Founding UMBC McNair Director, and Thomas Robinson, PhD., Assistant Professor of Africana Studies and McNair Research Methods Faculty for over 30 years. Here is the link to the flier for the event. All are welcome and encouraged to attend!
Annually, we will highlight a lecturer who is an accomplished UMBC McNair alum or UMBC faculty/staff member who is an alum of a McNair program from another university. This year's lecturer will be
Dr. Earl H. Brooks, Assistant Professor, English, University of Maryland, Baltimore County (UMBC).  Dr. Brooks is an alum of the University of Kansas McNair Scholars Program. Click here to read Dr. Brook's full biography.
Title of Lecture: A Love Supreme: The (Rhetorical) Legacy of John Coltrane
Abstract: Jazz musician John Coltrane's oeuvre, including his iconic album A Love Supreme, represented a synthesis of competing discourses and sensibilities in Black America: that of moderate integrationists of the Civil Rights Movement and the emerging concerns of countercultural Afrocentrism. In this concert/talk, I argue that such syntheses propelled Coltrane's larger status as a cultural symbol of Black innovation and aesthetics through his role as a purveyor of epistemic sonic schema–a body of sonic material that produces knowledge–as an aural analog to theorist Kenneth Burke's critical practice of "perspective by incongruity" as well as the communication of doubled meanings associated with African American rhetorical traditions popularly known as signifying.
Featuring special guests: The UMBC Jazz Ensemble under the direction of Mr. Matt Belzer
The UMBC Jazz ensemble is a large jazz group dedicated to the professional training and creative development of its members. The group performs at concerts, special events, and festivals. Student composers and arrangers are encouraged to have their music read, performed, and recorded by the group. The ensemble has performed alongside creative jazz musicians, including Allison Miller, Jonathan Barber, Ben Allison, Larry Willis, Steven Bernstein, and Howard Johnson.
The 2023 Hill-Robinson McNair Lecture is co-sponsored by: UMBC McNair Scholars Program, The Dresher Center for the Humanities, Music Department, Department of Education, College of Engineering and Information Technology, College of Natural and Mathematical Sciences,  College of Arts, Humanities, and Social Sciences, UMBC-Division of Professional Studies, Department of Sociology, Anthropology, and Public Health, Social Work, Center for Women in Technology, The Center for Social Science Scholarship, UMBC Department of American Studies, Individualized Study Department, English,  Gender, Women's, + Sexuality Studies,  Africana Studies Department, and The Office of Alumni Engagement Initiatives for Identity, Inclusion & Belonging.
For more information & sponsorship opportunities, please contact Michael A. Hunt, Program Director, UMBC McNair Scholars Program, michaelahunt@umbc.edu.