Hill-Robinson McNair Lecture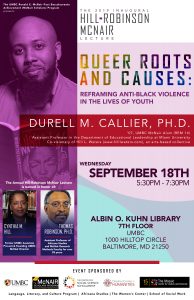 The UMBC McNair Scholars Program is delighted to announce our first public lecture. On Wednesday, September 18, 2019 at 5:30 pm, UMBC Library 7th Floor, The UMBC McNair Scholars Program will present the inaugural Hill-Robinson McNair Lecture, named in honor of Cynthia M. Hill, Former UMBC Associate Provost & Founding UMBC McNair Director, and Thomas Robinson, PhD., Assistant Professor of Africana Studies and McNair Research Methods Faculty for over 28 years. Here is the link to the flier for the event. All are welcome and encouraged to attend!
Annually, we will highlight a lecturer who is an accomplished UMBC McNair alum or UMBC faculty/staff member who is an alum of a McNair program from another university. This year's lecturer will be Durell M. Callier, PhD, '07, UMBC McNair Alum (REM 14), Assistant Professor in the Department of Educational Leadership at Miami University and Co-visionary of Hill L. Waters (www.hilllwaters.com), an arts-based collective. The title of his lecture: "Queer Roots and Causes: Reframing Anti-Black Violence in the Lives of Youth."
Abstract from Lecturer: The victimization of queer youth both within and beyond schooling contexts in recent years has garnered growing public concern. Equally so, the premature deaths of Black youth at the hands of law enforcement and vigilante justices have increasingly captured public attention and calls for change. Despite being seen through monocausal frames, anti-Black and anti-queer violence are overlapping and mutually constitutive. Throughout my talk, I illuminate connections between anti-Black and anti-queer violence as they shape the lives of youth of color. Centering the lives of three youth, Carl Joseph Walker Hoover, Jaheem Herrera, and Tyrone Williams, I argue that the systematic premature and preventable deaths experienced by Black and queer youth are a function of state apparatuses and sociocultural institutions constructing youth of color and Black youth in particular as queer subjects.
The 2019 Hill-Robinson McNair Lecture is co-sponsored by: UMBC McNair Scholars Program, Dresher Center for Humanities, Center for Social Science Scholarship, Campus Life's Mosaic: Center for Culture and Diversity, American Studies, School of Social Work, Language, Literacy, and Culture Program, Africana Studies, and the Women's Center.  
For more information, please contact Michael A. Hunt, Project Director, UMBC McNair Scholars Program, michaelahunt@umbc.edu.