We are thrilled to host the 31st Annual UMBC McNair Research Conference, September 14-16th, 2023, at the Hilton Baltimore Inner Harbor.
Registration is closed. If you are interested in remaining updated about the registration process, please complete our 2024 Conference Interest Form.
Get our official event app,

Get the most out of the app and have a more productive experience!
1
NAVIGATE the event agenda and logistics, even without Wi-Fi or data. Access useful information like ridesharing and local attractions through the Community Board
2
NETWORK effectively. Plan whom to meet by exploring attendee profiles and sending out messages
3
PARTICIPATE in event activities through session likes, comments, ratings, live polling, tweeting, and more
For feature details, visit
Whova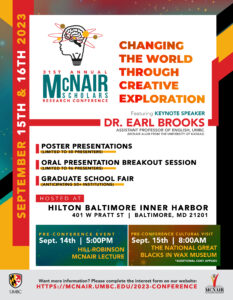 =====
Please note that this will be the registration website. More details will come once registered.
LINKS ARE OPEN
Graduate Reps & Sponsors Registration Information
List of Registered Graduate Schools/Programs
Accommodations(Hotel and Meals) & COVID-19 Updates
Hill-Robinson McNair Lecture (Pre-Conference Event)
Corris PA Davis Need-Based Scholarships [may be available for a limited number of student attendees only]